【Review】Pass on Charity
2017-10-07 16:36:27
On July 4th and July 6th, Foshan Golf Club, permanent promoter of the 2017 Foshan Open, held two charity golf clinics under the arrangement of the Organizing Committee of the 2017 Foshan Open. In order to pass on love, teachers and students from Guangzhou Huiling Special Education School and Foshan Red Cross Hospital School were invited respectively to experience the joy of playing golf and the unique charm of golf.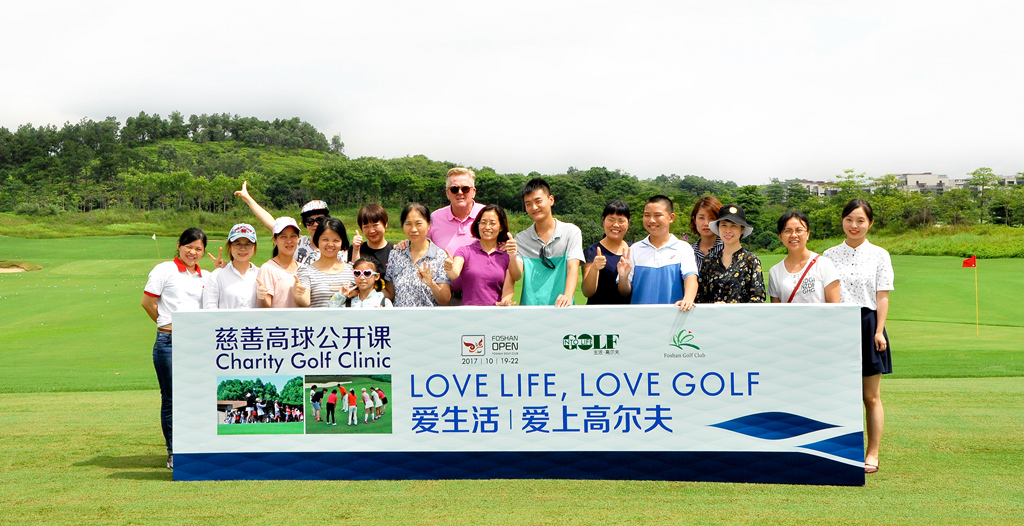 During the clinics, the coach team led by Vic Carder, Golf Director of Foshan Golf Club and professional coach of the United States PGA, patiently and carefully explained to the students how to take back, swing and finish. Accompanied by their teachers and the volunteers, each student started their practice with coaches providing guidance one by one.

They got in touch with golf for the first time, so they were full of curiosity. Although golf was new to them, it brought such wonderful pleasure to them that even the sudden rain didn't affect their enthusiasm. Every time the teachers and students hit the balls, regardless of distance, they felt happy from the bottom of their heart. This kind of simple happiness also infected everyone at the scene. The teachers said that playing golf in such a sunny day helped them release from daily affairs, which made them feel relaxed and gave them a new understanding about golf.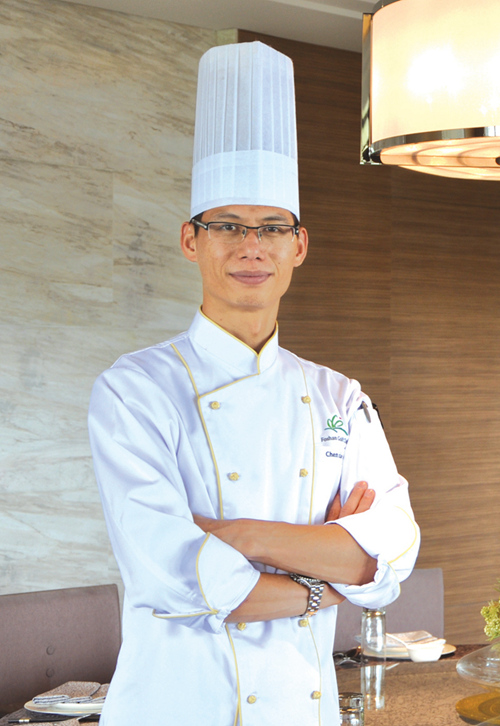 Chef Gorden
After the clinics, all the teachers and students went to the popular Gorden Kitchen in Foshan Golf Club. They spoke highly of the considerate arrangement after trying the desserts such as waffles and the drinks like Ice Fruit Tea.
After the clinics, all the teachers and students went to the popular Gorden Kitchen in Foshan Golf Club. They spoke highly of the considerate arrangement after trying the desserts such as waffles and the drinks like Ice Fruit Tea.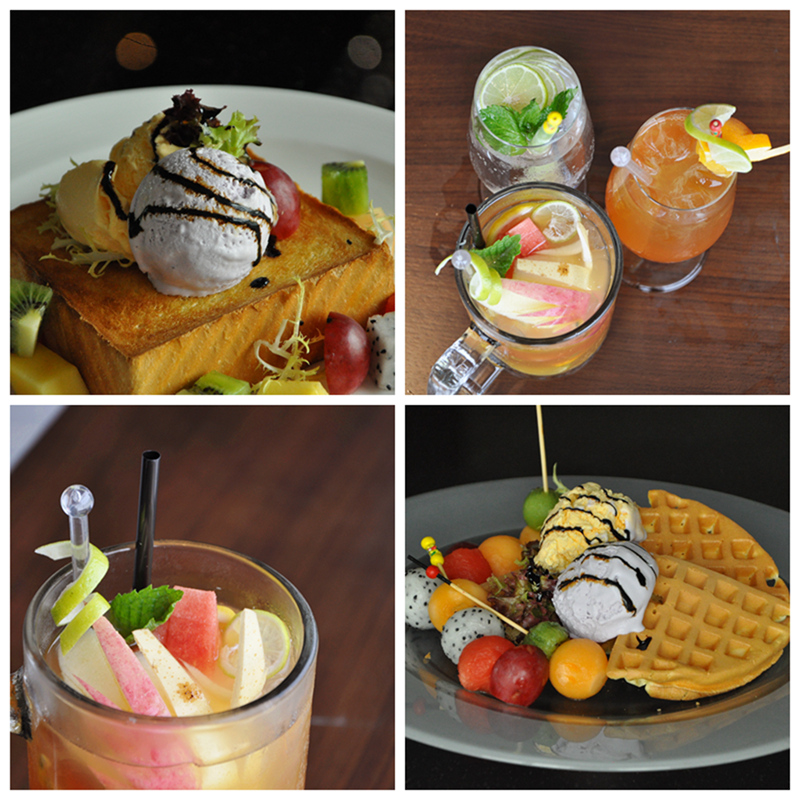 The clinics were so popular that Vic felt very pleased. "I enjoy participating in this kind of activity because the happiness of the children is the most real," he said. "Playing golf made these kind and polite kids feel the pleasure of golf and get along with us freely. If everyone acts this way, our life will be happier. The teachers are compassionate and patient angels. Thanks to their efforts, these kids become well-behaved, polite and considerate. They live in simple happiness."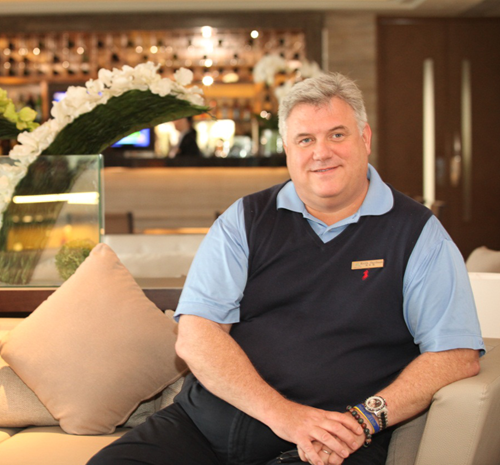 Mr. Keith Hardman
General Manager of Foshan Golf Club
General Manager, Keith Hardman gave an introduction to the charitable activities held by Foshan Golf Club. "Since the inauguration of Foshan Golf Club, the Club has paid high attention to the social liability. By combining the characteristics of golf with the dynamic platform of Foshan Open, Foshan Golf Club has spared no efforts to return to the society. It has held many charitable activities, tournaments, donations to help people in need. Our partners include but not limit to UNICEF, Huiling Service Agency for Persons with Mental Disabilities Foshan Red Cross Hospital School, etc. With the theme "Giving Children A Future" in 2014, Foshan Open donated overall 1 million yuan to the Foshan Red Cross Hospital School in the following three years in order to help the disadvantaged children, which made Foshan Open the first tournament to combine golf and charity together. In 2015, Foshan Golf Club continued to participate in other charitable activities, such as spending the Children's Day with kids of the Red Cross Hospital School. In 2016, the Club integrated charity into Green Walk during Foshan Open, working with GIVES to help autistic children, donating bird nests to the Bird Flying Fund, and cooperating with many other volunteering organizations. In this year, in addition to charity golf clinic, we will carry on Green Walk in order to make more people pay attention to and participate in Foshan Open as well as help them get to know golf."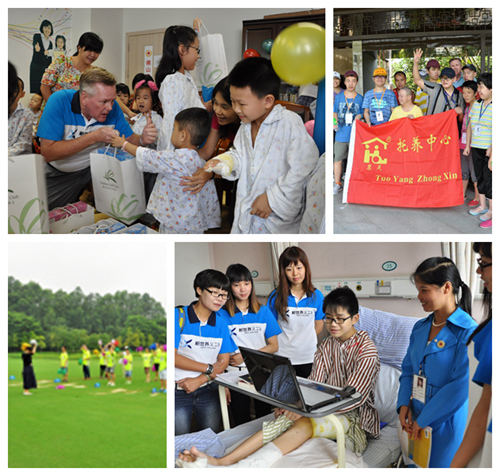 2017 Foshan Open, with total prize fund 500,000 USD, hosted by Multi-Ball Games Administrative Center of General Administration of Sport of China, co-sanctioned by the European Challenge Tour and the China Golf Association, co-organized by Guangdong Golf Association, undertaken by Foshan Golf Club, gained full support from Foshan Municipal Government and Foshan High-tech Industrial Development Zone, with New World China Land Limited ("NWCL") as the presenting sponsor.
NWCL is the flagship Mainland China property arm of Hong Kong-listed New World Development Company Limited ("NWD"; Hong Kong Stock Code: 00017) and one of the largest property developers in Mainland China. As an early Hong Kong pioneer entering the China property market, NWCL has set its multi-faceted vision toward building sustainable urban communities. NWCL advocates to develop international residential area, and Canton First Estate, where the Foshan Open is held, is definitely one of the best projects of this kind.